So here, at long last, is my latest foray into honest-to-ISBN publishing. I am still waiting on my contributor copy, which I understand is going to be a fairly massive 700+ page paperback with over 40 stories, some of them running 10,000 words or more. It'll take me a few commutes to plow through all that, but I am looking forward to the experience. And once I've got the whole anthology digested, I'll return to the task of promoting it by weighing in on the individual stories that jumped out at me, whether by virtue of entertainment value, sheer weirdness, or whatever else seems appropriate at the time.
Basically, though, it's a collection of re-told fairy tales, some fleshed out and deepened, others using the originals as mere starting points for wild tangents, all of them mashing up the old folklore with new speculative genres from steampunk to urban fantasy to space opera. My contribution, for example, was put through the filter of future tech and mad scientists, and was based on ... well, if I told you what fairy tale it was based on it would kind of give away the game, so you'll just have to read it for yourself.
Below you can find links for picking up your own copy, as well as some of the promotional material that (some? most? all?) the other affiliated authors are currently using to spread the word.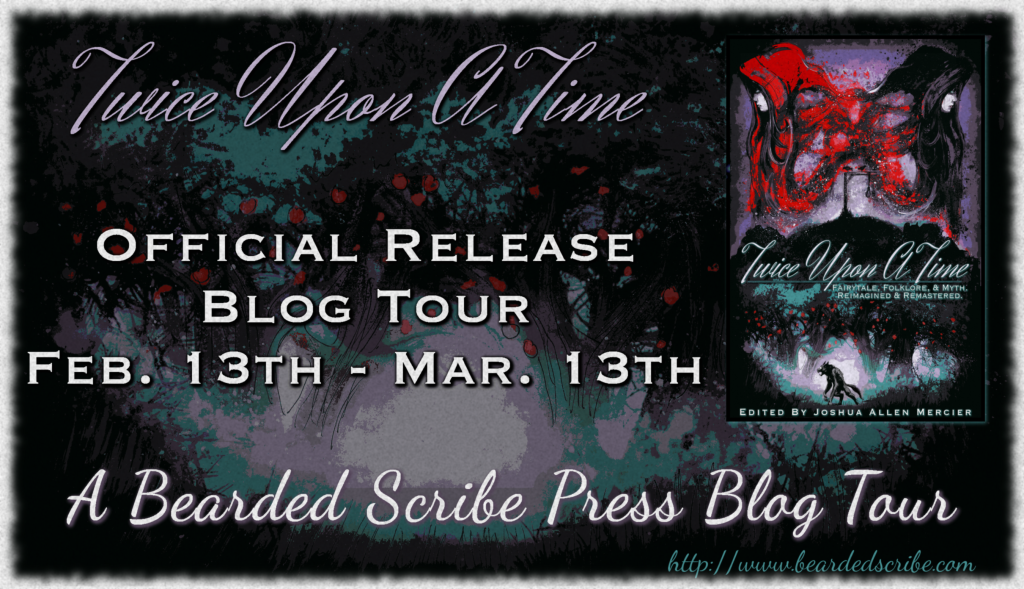 Blurb:
Fairytales don't always happen once upon a time. Fables don't always have a happy ending. Sometimes the stories we love are too dark for nightmares. What if waking Sleeping Beauty was the worse thing the Prince could have done? What if Rapunzel wasn't in that tower for her own protection—but for everyone else's?
Assembled by The Bearded Scribe Press, Twice Upon A Time combines classics and modern lore in peculiar and spectacular ways. From Rapunzel to Rumpelstiltskin, this unique collection showcases childhood favorites unlike anything you've ever seen.
Both traditionally-published and independent authors will take you on a whirlwind ride through fairytale and folklore, myth and majick. Cherished stories are revisited and remastered into newly-treasured tales of hope and heartache, of adversity and adventure.
Edited by Joshua Allen Mercier. Cover art by Luke Spooner.
---
Praise:
"Brilliant change-up on the new flood of "Fairy Tale Twists". If you're looking for something that can suck you in right away, this book is definitely it. The collection of short stories makes sure you never get bored with the story or writing style." ~Jett Murdock / Amazon review
About the Publisher:
The Bearded Scribe Press, LLC
is an independent publisher of quality Speculative Fiction. They aim to become a platform for emerging writers to get discovered by the mainstream and inversely, through becoming a staple in the literary community, becoming the source for readers to discover emerging talent in the Speculative Fiction realm.
Watch the [Extended] Book Trailer: